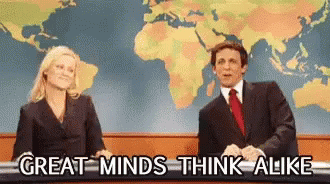 There is nothing quite like being able to connect with people and there are so many different ways in which I have learned to do that throughout this semester and being in EDTC 300. I've been given the opportunity to both contribute to the learning of others and to welcome the help of others in my own learning journey. The task of contributing to the community of learners has been beneficial but also, at times, very difficult. Through platforms such as our Google Plus Community, Twitter, and blogging, I was able to give it my best shot. Before I dive into the good, the bad, and the not so ugly, I just want to thank all of my peers for their support throughout the semester. The education community is so encouraging and helpful and I couldn't imagine learning alongside a better group of people.
EDTC 300 Google+ Community
Google Plus! Oh, what a wonderful world! Apparently, I had forgotten that long ago I had participated in a Google Plus Community. This second time around, however, I was able to see the full advantages of such a platform that allowed for me to connect with my peers in the EDTC 300 class. The community space allowed for me to be able to have discussions and try to help others who are posing questions about various topics. Admittedly, I was not very good at keeping up with the discussions happening on this platform in the beginning. It wasn't until I downloaded the app onto my phone (which I highly recommend doing if you are taking this class in the future) that I was able to get notifications that someone had posted in the discussion forum to which I was able to comment and help people out with any potential problems. Most of the time, this forum was used for blogging issues and it was nice to have a space where we could ask questions about anything.
Twitter
Me and Twitter, we have a very complicated relationship. A long time ago, I had a Twitter account. It was about five years ago that I deleted it and I spent five years in blissful ignorance of the Twitter-verse and all that went on there. Then I was forced (in the nicest way possible) to sign back up for Twitter for this class. This time around, my experience with Twitter was much more enjoyable and beneficial. Through Twitter, I was able to grow my Professional Learning Network (PLN) and was able to interact with my peers through things like "liking" others tweets, replying to posts and threads, following the edtc300 hashtag, and (though only once, as it was a very overwhelming experience) participating in an #edchat which allowed me to share and find resources and meet new people. Now, I can't say that I love Twitter because sometimes there is such a thing as being too connected. However, that being said, I was able to contribute to my peers learning in several, more understated ways. I tried to retweet any resources that I had come across in order to help my peers build up their arsenal of things like articles (s/o to Feedly) and provide some additional accounts to follow (if they weren't following them already). I also tried my best to share resources and connect with my peers who were also learning ASL for their #LearningProject. I don't think I met the "tweet two times a day" criteria, but I tried to keep my presence known by sharing other's tweets and replying with encouraging messages and questions when my peers tweeted.
Blogging
Another way that I was able to keep in touch with and contribute to the learning of my peers was through blogging. Through my own posts, I was able to share learning resources for ASL to those who were also on that journey with me and through commenting on other's posts, I was able to give encouragement and share our struggles and successes. It was a nice break from the rushed world of education to be able to sit back, read everyone's blog posts, and see the different adventures that everyone was taking with their learning projects. Some of the things people tackled for their projects were so creative and valuable in many circumstances, and I loved being able to talk to people about what they were experiencing. Admittedly (I think I say that a lot), commenting on other's blogs was not my strong suit. Eventually, my drive to comment faded away into the darkness and I was no longer helping my fellow students in the way I should have been.
Overall, I have had my eyes opened to the value that comes from collaborative learning! Good things happen when people work together. And while I still prefer interacting with my peers in person, it was the great experience to be able to connect with people from all over the city, the province, the country, and the world. I have appreciated every opportunity and the support.
For some examples (though not all, because apparently, I can't take a simple screenshot) of the ways in which I interacted with my peers throughout the semester, please visit this google doc.