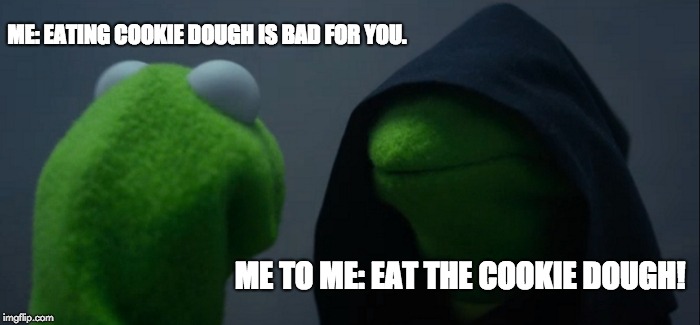 via Imgflip
For the few who know me well, they know that one of my passions in life is baking! I love it and I have an elaborate backup plan/dream/alternate universe where I own a bakery and sell delicious baked goods and serve coffee. I've even attempted some complex cakes in the past (please see the fantastic birthday cake I made for my nephew's first birthday below). So I thought, what better way to learn some additional sign language than to combine it with something that I love! Below you will find my vlog of baking my no-fail Chocolate Chip Cookies (recipe provided at the end of this post) with a dash of sign language for extra deliciousness!
WARNING: While I do enjoy the occasional bite of cookie dough (as you will see in the video), it is potentially dangerous to eat raw cookie dough so please be aware of the risk before you do so!
For this vlog I used SignSavvy.com as my resource in addition to signs that I have already learned throughout this project. While the ASL dictionary is very valuable in terms of finding single words or common phrases, I found it difficult to know how to string things together. I have yet to find a resource that shows you how to create sentences with signs because I am aware that it is grammatically different than the way common English is spoken. However, what I do really like about SignSavvy is that it provides videos to show you exactly how to sign a word compared to just using pictures or descriptors. It is definitely something I will tuck away in my toolkit for the future!
Full Recipe (Taken from the KitchenAid Recipe book):
1 c. granulated sugar
1 c. brown sugar
1 c. butter, softened
2 eggs
1 1/2 tsp. vanilla
1 tsp. baking soda
1 tsp. salt
3 c. all-purpose flour
12 oz. semi-sweet chocolate chips
Directions:
Place sugars, butter, eggs, and vanilla into a bowl and mix.
Add baking soda, salt, and flour to the sugar mixture.
Add chocolate chips.
Drop cookies onto a prepared baking sheet and bake at 375 degrees Fahrenheit for 10-12 minutes or until cookies are golden brown. 
Remove from baking sheets immediately and cool. 
Eat and Enjoy!